I'm Silvia Pisani (she/her), an Italian independent photographer & graphic designer currently based in Catalunya, working between Barcelona and Milan.
I use to work with small and medium-format film but with natural light above all.
During my self-taught journey into photography I developed a strong documentary style that follows every work I run, from editorial projects to institutional ones.
Benefiting from my keen observation skills, I'm able to intersect subject spontaneity and compositional smarts to create authentic visual storytelling.
Featured in
Process 057 ☼ Process by Wesley Verhoeve
SAMPLE_NESS "WINTER 2020", Fashion and Cool Hunting Catalogue, 2020
Selected Clients

Adidas, Casbia, Footlocker, Garage Italia, Golden Goose, Miu Miu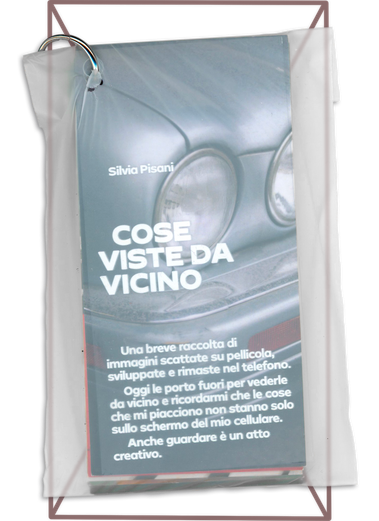 Solo Exhibition
Going Closer
Since I am also a graphic designer and a print media lover I designed this screen-phone-size booklet as a present for the people who came to visit my first exhibition made up in Milan in November 2021.
This collection of images is an invitation to take a closer look at the little things we're attracted to in our everyday life.
Here some picture of the booklet I took during the exhibition.
Group Exhibitions
— Looking for eARTh, Rome, 2023/22
— Young Eyes, Young Souls: a Youthful Take on Contemporary Photography, Milan, 2022
The following pictures are a short selection of Fine Art prints sold and shipped by Looking for Art, the young Italian gallery that represents my personal works at the moment.