I'm Silvia Pisani (she/her), an Italian independent photographer & graphic designer currently based in Catalunya, working between Barcelona and Milan.
I use to work with small and medium-format film, but with natural light above all.
During my self-taught journey into photography, I gradually developed the intuitive and spontaneous approach that actually drives me in every work I run, from editorial projects to institutional ones.
Benefiting from my keen observation skills, I'm able to intersect subject spontaneity and compositional smarts to create authentic visual storytelling.
Selected Clients

Adidas, Casbia, Footlocker, Garage Italia, Golden Goose, Miu Miu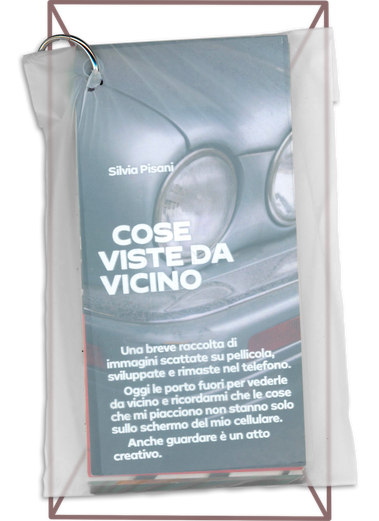 Solo Exhibition
Going Closer
Since I am also a graphic designer and a print media lover I designed this screen-phone-size booklet as a present for the people who came to visit my first exhibition made up in Milan in November 2021.
This collection of images is an invitation to take a closer look at the little things we're attracted to in our everyday life.
Here some picture of the booklet I took during the exhibition.
Group Exhibitions
↘︎ MIA Photo Fair '23, The International Photography Art Fair in Italy, Milan, 2023
↘︎ Looking for eARTh, Rome, 2023/22
↘︎ Young Eyes, Young Souls: a Youthful Take on Contemporary Photography, Milan, 2022
↘︎ Reduce, Reuse, Re-Art by Kooness, Milan 2022
The following pictures are a short selection of Fine Art prints, sold and shipped by Looking for Art, the young Italian gallery that represents my personal works at the moment.
Different sizes & prizes are also available on Kooness (poster printed too) and Design Italy.
Last but not least I picked one of my favorite pictures ever to send to the Metaverse. Take a look at my first NFT in physical and digital copy, only on the Aesthetes marketplace.